Baskerville A Sherlock Holmes at Phoenix Theatre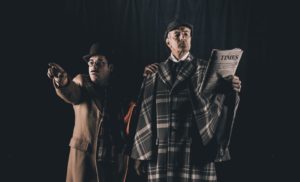 There are few things that stand the test of time and remain popular over centuries. No one is still playing Tomagatchi, carrying around a pet rock, or reading Choose Your Own Adventure Books, but ask almost anyone around the world who Sherlock Holmes is and you're bound to get a good response. Sherlock Holmes is a cultural icon who has stood the test of time and been re-interpreted over the years, most recently in the BBC or PBS version of Sherlock.
There is a big reason that Arthur Conan Doyle's detective remains so popular it is because his methods and demeanor resonate with so many people around the world. In seeing the recent adaptation of one of the classic stories, The Hound of the Baskervilles, on stage as – "Baskerville, A Sherlock Holmes Mystery", I was freshly reminded of the popularity of this detective by the audiences enthusiasm throughout the play.
The take on the classic story here was much less dark than the Masterpiece Theatre version of Sherlock on PBS and was still met with the extreme enthusiasm for a character that has remained popular over the centuries. This again shows the brilliance of the character created by Doyle and his adaptability over the centuries. In the Phoenix Theatre show the story was told with a slant towards the comedic while still bringing the classic mystery genre we would expect to see in a Sherlock Holmes play. The more comedic take on the story was met with many bursts of laughter from the audience and in my opinion added greatly to the enjoyment of the play.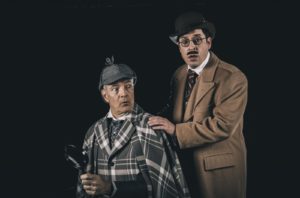 The Phoenix Theatre is simply one of the best places to see live theatre in the valley. The acting here is on par with many shows that I have seen in larger cities such as New York or London. The four actors in the Baskerville play did a great job. They could easily have also qualified as quick change artists the way they were able to move between the many characters in the same scenes using different wardrobe and accents. While everyone was great, the one standout who in my opinion stole the show with his excellent comedy and brilliant acting in the various roles he took on from murderer to hotel clerk was Pasha Yamotahari @pashtor on twitter. His supporting roles were simply amazing and alone worth the price of admission. If you have not seen the show or checked out this great gem in Phoenix you should head over to The Phoenix Theatre as soon as possible.